"Taking it to the Streets"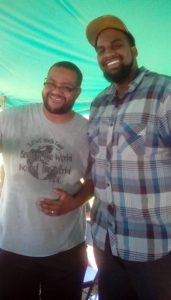 Brother Joseph Stacy and Min. Caleb Barnett at Taking it to the Streets on August 27, 2016 in Cairo, IL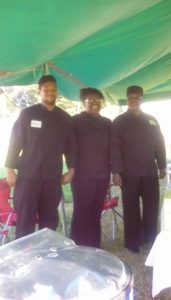 Culinary Crew at Taking it to the Streets on August 27, 2016 in Cairo, IL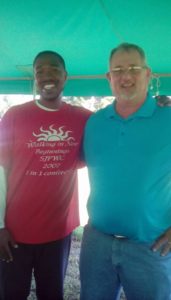 Brother Joe Basden and Brother Jaime Moyers at Taking it to the Streets August 27, 2016 in Cairo, IL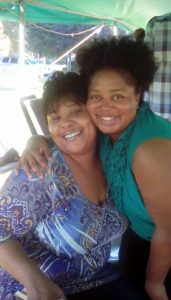 Min. Tasha Blake and Min. Valencia Clark at Taking it to the Streets on August 27, 2016 in Cairo, IL
If you are an individual that has accepted the Lord Jesus, the Christ into your heart it is because someone loved you enough to share Him with you and to invite you to Christ. Isn't it the BEST decision you have ever made? Even in the natural, when you are "in on a good deal," or are privy to something incredible, don't you want to share it with others and make them aware? Think about a good sale that offers incredible savings…don't you share that information with others? Think of a really good restaurant that you frequent, don't you share with others how good the cuisine tastes? Every Believer has a role to play in personal evangelism and being a vessel for the Lord to use to bring more souls into the Kingdom. As Believers, we should want hell to be as empty as possible and for heaven to be as full as possible. The Bible teaches us that God is not willing that anyone should perish but that all should come to repentance (2 Peter 3:9 – paraphrase).
As part of our four fold vision at SJPWC, God has given us to be outreach minded and not "in-reach minded." Jesus told us in the Gospel according to Mark 15:15-16 – " And he said unto them, Go ye into all the world, and preach the gospel to every creature. He that believeth and is baptized shall be saved, but he that believeth not shall be damned." Hell is not a destiny I would wish on anyone! It is to that end that SJPWC's corporate evangelistic arm (TAKING IT TO THE STREETS) exists.
TAKING IT TO THE STREETS holds meetings in the Southern Illinois/Southeast Missouri region during the early spring, summer, and early fall months of the year. We partner with SOUL HARVEST FOR CHRIST MINISTRIES (Min. David Howard who is based in Marion, Illinois) for this KINGDOM INITIATIVE. During these meetings, the Gospel of Jesus Christ is preached underneath a tent. Prior to the meeting, our evangelistic team canvasses the area, spreading the LIGHT OF CHRIST into the hearts of the lost, the broken, the spiritually blind, sick, and the broken. We literally take it to the streets by stopping individuals on the streets and even knocking on their doors and present Christ to them. At the actual program portion of the day, we have praise and worship, actual PULPIT PREACHING, testimonies, etc. Additionally, we provide a free meal with beverages. To maintain our momentum, during the winter months (when weather permits), a portion of our team goes out into the Southern Illinois region and present Christ to individuals as the Lord leads. As a result of our efforts, God has used us in the salvation experience of several dozen individuals. While our agenda is NOT to increase our membership, many have joined SJPWC. We have had the opportunity to disciple a lot of the converts as well as the Lord instructed us to do in Matthew 28:19. Contact the chair of TAKING IT TO THE STREETS, Min. Valencia Clark-or Bro. joe Basden for more information at